Type 1 Diabetes Treatment Specialist Q&A
Arkansas Diabetes and Endocrinology Center offers comprehensive treatment for type 1 diabetes. Visit us at your earliest convenience. For more information, call us or book an online appointment. We serve patients from Little Rock, AR and surrounding areas.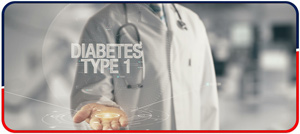 Table of Contents:
What is type 1 diabetes caused by?
What is the difference between Type 1 and Type 2 diabetes?
Is type 1 diabetes serious?
How can diabetes type 1 be treated?
What is type 1 diabetes caused by?

An autoimmune reaction (when the body attacks itself by mistake) causes type 1 diabetes. Beta cells, which make insulin in the pancreas, are destroyed in this reaction. It may take months or years for symptoms to appear after this process has begun.
 
People with certain genes (traits passed from parent to child) are more likely to develop type 1 diabetes. Despite having the genes, many of them will not develop type 1 diabetes. A trigger in the environment, such as a virus, may also play a role in type 1 diabetes development. Type 1 diabetes, according to medical professionals, is not caused by diet or lifestyle habits.
What is the difference between Type 1 and Type 2 diabetes?

Type 1 diabetes is a genetic condition that often shows up early in life, while type 2 diabetes is mainly lifestyle-related and develops over time. Your immune system attacks and destroys insulin-producing cells in your pancreas when you have type 1 diabetes.
 
Although type 1 and type 2 diabetes share many similarities, they have many differences as well. These include what causes them, who they affect, and how they should be managed.
 
Diabetes type 1 affects 8% of diabetics. While type 2 diabetes affects about 90% of diabetics. Symptoms for type 1 diabetes arise quickly, they arise more slowly for type 2 diabetes and are easier to miss. Type 1 is managed by controlling the blood sugar by taking insulin. There are more ways, according to medical professionals, to manage type 2 diabetes than type 1. Type 2 diabetes can be managed through medication, diet and also exercise. Patients with type 2 diabetes may also be prescribed insulin.
Is type 1 diabetes serious?

Type 1 diabetes is a highly serious condition that requires treatment. Untreated diabetes can lead to a slew of health problems. Blood vessels, nerves, and organs can be damaged by large amounts of glucose. Long-term damage can be caused by persistently raised glucose levels that don't cause symptoms. When your insulin is not balanced with your food intake and exercise, complications can arise. In order to manage your insulin correctly, you will work with your diabetes team. In the absence of proper care, it is a life-threatening condition.
How can diabetes type 1 be treated?

Diagnosing diabetes early is crucial. In the absence of treatment, type-1 diabetes can be fatal. Early treatment is essential.
 
The goal of treatment for diabetes is to keep your blood glucose levels as normal as possible and control your symptoms so that you do not develop health problems later in life. A diabetes care team will treat and monitor you if you have been diagnosed with diabetes. In order to keep your glucose levels normal, you will need to take regular insulin injections. Your blood glucose level and the amount of exercise you do will be taken into account when determining how much insulin to inject.
 
Several types of insulin injections are available, and each works in a slightly different way. You will likely need a combination of insulin preparations. Some patients receive fast (rapid) acting insulin through continuous infusion (pump therapy). Through a plastic tube (cannula) that's inserted under the skin, a small device continuously pumps insulin into your bloodstream (at a rate you control). Alternatives to insulin injections and pumps exist, but they are only suitable for a small number of people.
 
Although it is an incurable condition it is possible to live relatively unburdened by the condition with a proper treatment plan. Arkansas Diabetes and Endocrinology Center works with patients to manage and live with type 1 diabetes. Reach out to us today so that we can help you with your diabetes to help you live a healthier life. We serve patients from Little Rock AR, Conway AR, North Little Rock AR, Pine Bluff AR, Hot Springs AR, Benton AR, Sherwood AR, Russellville AR, Jacksonville AR, Cabot AR, Searcy AR, Bryant AR, Jonesboro AR, Forrest City AR, Magnolia AR, Camden AR, Malvern AR, Batesville AR, Arkadelphia AR, Clarksville AR, Monticello AR, Heber Springs AR, Morrilton AR, Stuttgart AR, Greenbrier AR, Sheridan AR, and Vilonia AR.