Insulin Pumps and CGM Questions and Answers
Living with diabetes or a related condition may be much easier with an insulin pump. If you'd like to learn more about insulin pumps, we'd like to tell you much of what we know. We've prepared a Q and A on the subject, so read on if you have questions and need answers about insulin pumps and continuous glucose monitoring! For more information, call us or schedule an appointment online. We serve patients from Little Rock AR, Conway AR, North Little Rock AR, Pine Bluff AR, Hot Springs AR, Benton AR, Sherwood AR, Russellville AR, Jacksonville AR, Cabot AR, Searcy AR, Bryant AR, Jonesboro AR, Forrest City AR, Magnolia AR, Camden AR, Malvern AR, Batesville AR, Arkadelphia AR, Clarksville AR, Monticello AR, Heber Springs AR, Morrilton AR, Stuttgart AR, Greenbrier AR, Sheridan AR and Vilonia AR.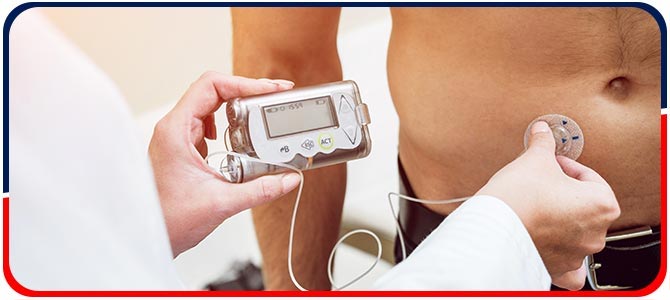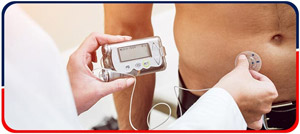 Table of Contents:
What new technology can help me manage diabetes?
Who would be a good candidate for an insulin pump?
What research does Arkansas Diabetes and Endocrinology Center conduct for diabetes?
Diabetes is a complex condition that often requires collaboration from a team of healthcare professionals to successfully manage. Due to the commonness of the chronic condition, there is much research conducted on diabetes and how to effectively manage its symptoms and improve the quality of life of those who are affected by it.
What new technology can help me manage diabetes?

There are many treatments available for diabetes patients, with more being discovered and researched every year. Two methods of therapy include insulin pumps, to help patients automatically regulate levels of insulin, and CGM, which stands for continuous glucose monitoring and provides a more complete picture of glucose levels by revealing a history of lows and highs that other tests are not sensitive enough to detect.

Arkansas Diabetes and Endocrinology Center uses both of these technologies to ensure the most complete course of care for those living with diabetes. In the state of Arkansas, we are the leading Diabetes Center for use of technology to assist in the treatment of diabetes. Our professionals are educated on the most up-to-date practices and procedures and have conducted many clinical trials, have presented at major conferences, are published in leading journals and conduct educational seminars for medical professionals throughout Arkansas, the United States and North America. You can rest assured that our team of doctors and physician assistants will provide the highest quality care available, and will review your current insulin pump data, assess your overall control of the condition, identify any issues that may lead to hyperglycemia or hypoglycemia and recommend changes that help you stay on course for the successful and effective management of your condition.

Arkansas Diabetes and Endocrinology Center provides personal care for each of our patients, creating a treatment plan as unique as you are.
Who would be a good candidate for an insulin pump?

Patients who may be a good candidate for an insulin pump have:

– Type 1 and insulin-requiring Type 2 diabetes
– The inability to achieve acceptable glucose control despite insulin intensification
– Elevated A1C
– Glucose variability
– Recurrent hypoglycemia, activity-induced hypoglycemia, hypoglycemia unawareness and nocturnal hypoglycemia
– Pregnancy/Pre-pregnancy diabetes
– Recurrent diabetic ketoacidosis (DKA)/recurrent hospitalizations
– Dawn phenomenon
– Gastroparesis
– Patient preference, meal-timing flexibility and normalization of lifestyle
– Low insulin requirements (not easily measured via syringe)
What research does Arkansas Diabetes and Endocrinology Center conduct for diabetes?

Arkansas Diabetes and Endocrinology Center is the leading center in Arkansas for insulin pumps, continuous glucose monitoring and artificial pancreas systems. Not only do we provide expert-level care for the management for diabetes and other endocrinological disorders, we also conduct our own research that benefits the overall understanding of how diabetes affects the human body. Some key points of our research include:

– We are 1 of only 15 research centers in the United States to have studied the Advanced Hybrid Closed Loop System in patients of all ages, including adults, adolescents and pediatrics.
– We are the only center in the state of Arkansas that is currently using the Medtronic Advanced Hybrid Closed Loop in clinical research in adults, adolescents and children as young as 7 years of age.
– We are also studying technologies to track insulin usage and compliance such as Extended wear infusion sets (up to 7 days) and smart pen devices.
– We were the first center in the state of Arkansas to implant the 90 day Eversense Continuous Glucose Monitor.
– We were the first center in Arkansas and only 1 of 8 centers in the United States to place patients on the hybrid closed-loop artificial pancreas (Medtronic 670G) prior to it coming to the market. This has been quoted by the JDRF, the leader in researching a cure for type 1 diabetes, as 'a life-changing breakthrough.

If you or someone you love is looking for a way to better manage their diabetes, come to Arkansas Diabetes and Endocrinology Center today. Our kind and compassionate professionals are dedicated to providing the highest level of care to all of our patients. It is our mission to improve the health of each of our patients, and by doing so, improve their overall quality of life. Call us today to book an appointment. We look forward to serving you!